ProWork® – Scientifically proven
ProWork® is a self-management system developed by Prof. Göran Askeljung based on the work of Peter F. Drucker, the Austrian-born American management consultant, educator, and author, whose writings contributed to the philosophical and practical foundations of the modern business corporation. He was also a leader in the development of management education, he invented the concept known as management by objectives and self-control and he has been described as "the founder of modern management". Since the 1940s he has published numerous influential works on the theory and practice of management.
Other influences from important works of thought leaders in the field of economics, economy, productivity, time management and priority management are:
A good basis for Action Management is Getting Things Done™ by David Allen (GTD™). The Free University of Brussel did a scientific analysis thereof which proves that any good Action Management system needs to fulfill certain criteria. ProWork amalgamates many tenets of GTD™ and other methods for ease of use and enhanced effectiveness.
In a report from 2008, Francis Heylighen and Clément Vidal of the ECCO – Evolution, Complexity and Cognition research group at the Vrije Universiteit Brussel (Free University of Brussels) explain what those criteria are and why it works so well, based on the restrictions we all have in our minds.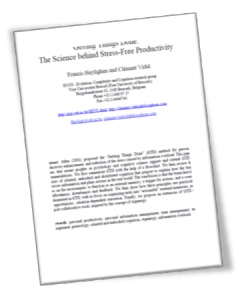 Quotes from "Getting Things Done™: The Science behind Stress-Free Productivity":
"The present reinterpretation of GTD™ on the basis of recent scientific theories does more than justify GTD's experience-based claims. "
"A flexible and opportunistic approach such as GTD™ is intrinsically better prepared to maximize productivity. " 
Interested? Contact us for more information: