"Why is it that paper and stuff keep piling up on my desk?", I wondered. After starting to process my stuff on a daily basis for many years now, I realized my workflow was askew and somewhat not working properly. "Filing stuff should be fun and easy".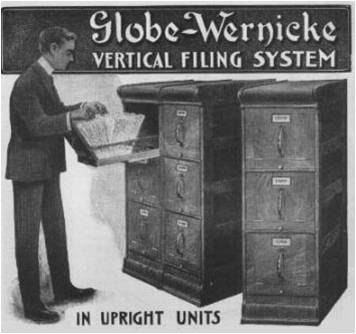 After some time of self-analysis and objective observation, I found that the reason for putting things on stacks on my table, instead of filing them away instantaneous, was my hesitation to stand up and put it in the drawer behind me, or punch holes and file it in a binder, or because I didn't know where to really put it at all.
From this I learned a few important things I'd like to share in these "6 rules of filing":
1) Keep your files at arm's length!
This is very important. One major reason for not filing, is you're too lazy! If it's not within arm's length and you can manage to file it without standing up, you won't do it when push comes to shove. I dropped my old drawers and bought an IKEA roller with hanging files instead. Now I have all the "dead" files (no action!) I keep for my records under my desk within easy reach.
2) Find easy to use keywords to file under!
Some stuff could be filed in multiple ways and in 5 copies – don't! It's better to file it at one place under the keyword that pops up first. If in the future you don't find what you need, critically analyse your behaviour and check if there's another keyword that rather comes to mind. Then invest a little time in changing your system! That way you can be sure that it works as it should in the future. I have often done this; changed files from Telecom to Orange (the operators name) for instance.
3) Frequency counts – not the perfect keyword!
How often do you actually need those files? My filing system is basically an alphabetical one, but at front I have 01-Keyword, 02-Keyword, etc. This is where I keep the stuff I need most frequently. Like "Paid Bills", that I open once every week to put stuff into – it's right up front! Thus you save a lot of time and having to open that drawer more than a couple of inches. This also goes for your Files on your computer. Most frequently used Files, are filed as this on my computer as well. Over the years, I've saved millions of clicks and scrolls this way!
4) Good enough is better than perfect!
We're always so excited about perfection. I've learned to be excited by 90%. The 10% or less that might take a few more seconds to solve and get done, is not bugging me. The time I save on the extremely high efficiency I reach for the 90% is so cool, that you can live with the rest. For those 10%, I would have to rebuild my office, invest in super-professional gear and break my head about finding the perfect solution. Believe me – it's not worth it. Efficiency is about balance: get the most out of something with the least effort/energy/budget/time etc. Draw that line and be relaxed!
5) Be critical about what you save!
With papers my glass is always half full. I don't want to collect stuff. I only file it if absolutely necessary or if I'm too lazy to scan it or else. Is there a website? An Article online? Can I make a reference in my ProWork system? If this seems easier, I throw away the paper! In contrast, on my computer my glass is always half empty. If in doubt I file it under 01-Archive. On the computer I have virtually unlimited capacity – not so in my drawer!
6) Invest in materials!
Insofar this doesn't go against rule number 4, good materials like a proper labeller, quality pouches and whatever you use, should hold up to your standards. The hanging pouches I bought at IKEA where way too bad. I threw them away and got myself the good stuff, with metal hinges instead. If something tears and looks bad, it's another mental block for using it. So go by yourself some cool stuff to work with – you're worth it!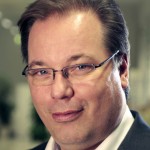 Prof. (op) Göran Askeljung is also the author of BrainRead – Effective Speed Reading and Director and Senior Trainer at immediate effects. Since 2015 Göran is also a Certified Facilitator und Associate of Consensus in NY, MD of Consensus Austria and Germany and Business Consultant at askeljung.com. Göran is Professor of Practise and Head of the Institute for Sales and Negotiations at the Georgian School of Management (GSOM). He is a member of the Board of Directors for the Swedish Chamber of Commerce in Austria. Göran is a consultant for The Forum Corporation (UK), eBda (Fr) und Napier Training Associates (UK) and is a Certified Solution Selling® Professional from the SPI University in USA. Göran is also a certified Microsoft Solutions Sales Expert (MSSE) and is an associate lecturer at the Economical University of Vienna, the University of Vienna and the University of Graz in Austria. Having lived in Austria since 1990, Göran has held positions as MD for Microsoft Networks (MSN) in Austria, Framfab and Icon Medialab, as well as various Management positions at Ericsson, T-Systems and Konica Minolta. As a Sales- and Productivity expert, Göran is passionate about developing sustainable efficiency through interactive and well-designed learning experiences. His compassion about his expertise comes from experience as a business owner and through many years in Management. Since 2003 he has built his own L&D business in Austria, designed and developed L&D programs and facilitated for many thousands of people. Göran is married and has two children. Social Media Links: Oxford Encyclopedia | LinkedIn | XING